There are many reasons behind a person choosing a career in cosmetology, although one reason may be that you only need about one year of education and training before you are fully licensed to practice. Although this may seem like a short period of time, it is actually significantly less than the training required for police academy recruits in California. Although there are many things which a cosmetologist needs to learn in order to keep clients safe, it seems as though it should require less time than the training for a police officer.
The Requirements to Become a Cosmetologist in CA
To get your cosmetology license through the California Board of Barbering and Cosmetology, you first have to undergo 1600 hours of approved education and training. Then, you have to pass the written and practical licensing exams before you can practice. You also have to renew your license every two years, although you do not have to undergo any continuing education, unlike many states. While in cosmetology school, you learn anatomy and physiology, heath and safety standards, sanitary practices, in addition the important techniques and skills for hair cutting, styling, coloring, nail, and skin care. To begin training, you just need to be over 18 and have a high school diploma or GED.
The Requirements to Become a Police Officer in CA
To become a police officer, you only need to undergo a total of 664 hours of training, which the entry level training covered by the California Peace Officer Standards and Training Regular Basic Course. Some police academy programs run longer, but they still do not compare to the 1600 hours required for cosmetologists. In this basic training at the Academy, you learn the foundation for working in law enforcement, including defensive tactics, firearms, leadership, ethics, investigative procedures, patrol procedures, criminal law, and First Aid. Before entering the Academy, prospective officers have to pass a POST reading/writing test and a physical agility WSTB test, as well as be over 18, have a high school diploma or GED, be free of felony convictions, be a citizen or permanent resident, pass a physical and mental health test, and pass a background check.
Although this training is the basic level police officer, graduates still head to the streets to keep people safe, often with weapons, which is why many are concerned it may not be enough. Before police officers move up in the ranks, they typically undergo more training or have enough experience, but cosmetologists also have to undergo continuing education and learn new skills throughout their career.
What About Other States?
California is not the only state in which cosmetologists have a higher training requirement than police officers. A report from the Department of Justice demonstrated that the average basic police training is just 761 hours, while most states require around 1500 hours to become a cosmetologist. Therefore, you need about half the training to be a police officer than a cosmetologist or barber.
Why the Difference in Training?
Many people have started to question this vast difference, especially in light of some of the recent police shootings around the country. Although cosmetologists work with chemicals, which can be dangerous, and need to protect clients from certain communicable diseases, for the most part, police work involves many more dangerous situations, both for the officer and the public. Therefore, it seems as though police officers should have much more training than cosmetologists.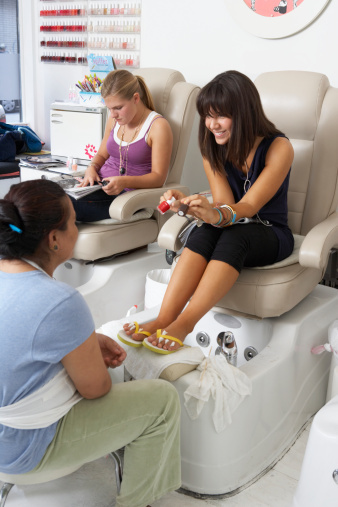 One reason some people believe it takes longer for cosmetologists to get their training is simply that so many more topics are covered, especially as most beauty schools cover skin care, nail care, hair care, and makeup application, along with health and safety, anatomy and physiology, skin, hair and nail diseases, how to maintain a sanitary work space, chemistry, and business, according to Bakersfield Now. They also need to undergo a certain amount of practical training along with book learning, which may account for needing more time than the police academy, which would be more emphasis on just practical training.
It does seem unfair that police officers do not need more training to do their job. In the coming years, this may change, especially as more people are voicing disapproval of some of the methods the police are using. Until then, cosmetologists can feel confident in the amount of training they have over police officers, perhaps preparing them better for their subsequent employment.
If you are a cosmetologist looking to renew your license and get continuing education, then check out our courses. They are cost-effective and hassle free.