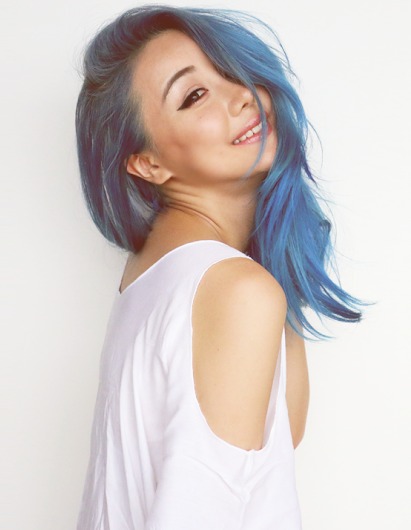 A good beauty routine starts from the inside out – which is why Wendy Huang, founder of The Wonderful World of Wengie, begins each day with a pot of ginseng tea and soy coffee to load up on antioxidants. She also tries to eat as much skin-loving food (think kale, tomatoes and salmon) as possible to keep her complexion clear and glowing, and skips makeup totally unless she's going out or filming.
The Australia-based beauty blogger shares plenty of tutorials, reviews and trends on her site. She recently checked in with us to chat about who inspires her when it comes to beauty, her favorite trends, her obsession with circle lenses and more. Here's what she had to say:
Tell us about the Wonderful World of Wengie. When and why did you start your site?
I started my site four years ago when I was working for a digital marketing agency serving clients in their own blogs and social media. On a daily basis, I advocated that businesses start their own blogs and Facebook pages; so I decided to walk the talk and create my own as well. That way, I could also understand the challenges they go through. I had started blogs previously, but not with a committed mindset; they were all just personal blogs like an online diary.
When did you become so obsessed with beauty and fashion?
At a pretty young age! It's funny because my mum was never into it at all; she never wears makeup, washes her face with water and is happy to wear the same clothes every day. Because I had no one to really teach me the ropes, I became obsessed with learning about this new world of makeup and fashion – and was pretty hooked on it ever since primary school.
Who inspires you when it comes to beauty? Who do you look up to and/or admire?
I get inspired by everyday things and people. If you stop and look around, there are so many beautiful people and things to take in. I'm particularly obsessed with interiors at the moment.
In terms of who I look up to and admire when it comes to beauty, I love looking at what Park Sora and StyleNanda do; I love their sense of fashion and style. They are Korean fashion/makeup brands. I also follow a wide range of beauty gurus on YouTube as well, and I particularly love Batalash.
Where did you learn about beauty? What are some of your favorite resources for others who might want to learn more?
Well, it all started with Dolly when I was a teenager. But a lot of the makeup tips were hard to follow because my eyes were completely different than the models' and the products were incredibly expensive for me at the time (being 14 and having no income). But I still read the magazines religiously. As I grew up, I turned to online forums. It's amazing how much information you can learn from others and then practice it in your room whenever you have a spare moment. These days, I would just turn to YouTube; there's nothing you can't find on YouTube, from professional makeup artists to everyday girls.
You frequently share beauty tips for Asian readers. What beauty topics interest this audience the most?
I feel like they love makeup tutorials and also skincare/makeup hauls. There's a lot of information based around Australian and American products in the media, but not so much around Japanese and Korean cosmetics – especially in western countries like Australia. I also only find information on Asian products online as well.
You seem pretty obsessed with circle lenses. What are they? Why do you love them?
Obsessed is probably an understatement. They are sort of my must-have makeup product when I'm not wearing any makeup. They simply are a contact lens that enlarges the size of your pupil. It's amazing what this does. It makes your eyes look bigger even with no makeup; it also makes you look more awake and refreshed with no concealer. However, if you wear the huge black ones, you might look a bit scary and doll like. I sometimes like wearing them; but on an everyday basis, I opt for subtler brown shades.
What advice can you offer on shopping for and wearing them?
My advice is to look online and see a few pairs on people. There's so many great reviews online; I also made a video trying them on as well. See what effect you like and then take the plunge and order a pair! If you're worried about the fit, you can always take them to your optometrist to check if they are safe for your eyes.
There are also daily disposable ones that local Optometrists carry made by Acuvue called Acuvue Define; they are a great starting point if you're completely new to circle lenses. I would say they suit dark-colored eyes the best because they usually come in a black or brown shade.
How do you do your eye makeup to complement your circle lenses?
You actually need a lot less makeup after circle lenses are worn, so I usually just sweep on a bit of eyeliner if I'm going out to a casual event. However, you'd pretty much do your makeup exactly the same – really, your eyes will just look bigger.
What are some of your favorite beauty trends right now?
My favorite trends probably have got to be clear and glowy skin and natural makeup. I think if you can make it so people can't really tell you're wearing a lot of makeup, that's a real skill to have.
Connect with Wendy on Facebook, Twitter, Pinterest, Instagram, and YouTube.
Check out our courses at BeautyCE.com.