From social media to resumes to job interviews, we now live in a "Show Me, Don't Tell Me" world.
It is no longer enough to have a diploma or certificate, we must show what we learned along the way. Having an internship or two on your resume is good; showing the impact you had on the company while an intern is much better. And using quantified statements in your LinkedIn profile isn't just good practice; it is practically mandatory.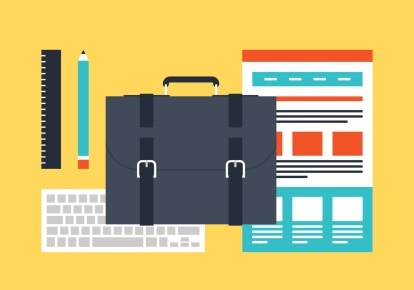 However, there's one step you can take that, when done right, will help you rise above your career competition better than any other: Through an online portfolio, show a potential employer or customer the beauty in what you've done, and can do.
Yes, online portfolios are no longer just for designers and fashionistas. Read on to learn more…
Plan Before Presenting
What should you include in your online portfolio?
The first step in creating a career portfolio is to research your industry and career choice – in this case, the beauty industry. What are the expectations within this industry? What skills are required of the position you want? Just like resumes, your digital portfolio must be customized to the audience – so all this research becomes critically important.
Organization Matters
How should your profile be presented?
Especially in industries such as beauty, where online portfolios are not yet the norm, or are just starting to become popular, how you organize your portfolio is a critical decision. For example, you may want to follow the same pattern as your resume so the audience can follow along easily. Since online portfolios are more common in the beauty industry, you may want to jump right into demonstrations of your work (pictures of your work, videos or demos of how to achieve certain looks, etc.).
Cater to the Culture
What does the reader care about most?
Chances are good that the job description will specify exactly what this employer or potential client is looking for from you. The company website, social media accounts and review sites like Yelp and Glassdoor will provide insight in their culture and management style. From all these sources, determine what matters most – and then seek to answer all their questions through your beauty portfolio.
Bonus: By answering many of their questions up front, you can move on to more important issues, like how you're the right person for this opportunity.
Pick the Right Platform
A highly effective online portfolio doesn't have to be complicated.
A popular blogging site like WordPress or Tumblr may work quite well. Or, with all its new features available that allow you to insert images and video throughout your profile, perhaps LinkedIn will serve you well as an online portfolio. For those who want to use a platform dedicated to generating a professional online portfolio, consider the straight-forward Pathbrite, quirky Carbonmade or easy-to-use Dunked.
No matter which platform you use, keep in mind the necessity of being mobile-compatible; the last thing you want is for a potential employer or client to connect via their smartphone and be less than impressed.
Share, Share and Share Some More
Finally, once you've completed your online portfolio, share it with friends, mentors and others in the beauty industry. Get their feedback – then make improvements. Once you are 100% ready, share the portfolio with the world! Connect to it on LinkedIn. Refer to it often on Twitter and Facebook. Connect your About.me page, and much more. Better yet, ask your networking buddies and mentors to share it for you!
Ready to show – not tell – the world what you know about beauty? Ready to unleash the power and demonstrate the impact of what you can do? Build an online portfolio…and beat your competition.
Mark Babbitt is CEO of YouTern, a talent community that Forbes has twice named a "Top Website for Your Career," and serves as President of Switch and Shift, a site that champions social leadership. Mark is also the co-author of the Amazon Best Seller, A World Gone Social: How Business Must Adapt to Survive with Ted Coiné (AMACOM, September 2014).